Pune, September 22, 2020 (VUCCD News)
How do you face adversity? Do you give up and lose hope, or do you fight back hard till your battle is won? When the world around you is engulfed with fear, panic and dismay, what would you do? When you have to choose between saving your life and saving others what will you choose?
The outbreak of the deadly novel corona virus has shaken the world to its core and has grappled people with fear and uncertainty. In times like these, where stepping out of the house can pose a risk to your life, there are some bravehearts who are ready to take on the adversity in her face and have chosen to save the life of others, risking their own. I'm talking about the silver linings in the cloud i.e. our doctors and medical workers. Doctors are not just fighting a pandemic but also dealing with their own emotional stress. One such story of a doctor with indomitable human spirit and commitment to help people cure will touch you to the core and help you get through the terror of the virus.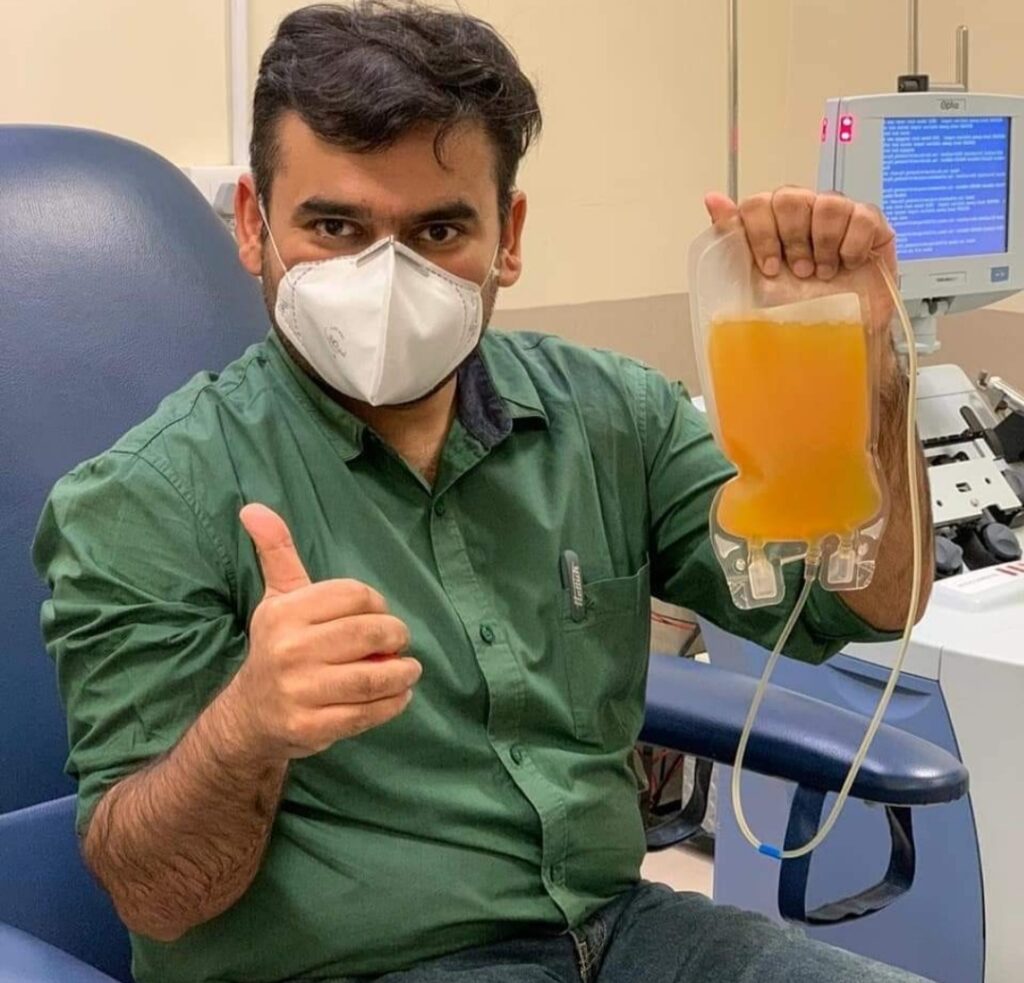 Dr. Satyam Arora, Assistant Professor, Transfusion Medicine at child PGI, Noida is a frontline warrior, working day and night to treat COVID patients. His story is not just about a committed doctor but also a patient who fought covid-19. In the last week of May he started developing symptoms like backache, body ache, low grade fever which eventually turned into a high grade fever. He isolated himself and took off from work. 
"There were sleepless nights due to dry mouth, fever and constant body ache" said Dr Arora in a video shared by ISBT (International Society of Blood Transfusion). After three days of prolonging symptoms he tested positive for the virus i.e. on May 28 and was admitted to the hospital. He was there for nine long days. The source of, from where he got infected is unknown.
"The miserable have no other medicine but hope" quoted William Shakespeare. The only hope for lakhs of people infected with the virus are doctors and when our heroes are injured we are shattered. But Superman also sometimes falls apart, only to come back stronger as ever and saves the world. Discharged on June 19, Dr. Arora lost 7 Kg weight and had prolonged weakness for 2-3 weeks. But this did not stop him. He donated 500 ml plasma; the maximum a donor can give at a time, to help treat COVID patients. After 3 weeks of discharge and defeating the virus he joined work. His main focus after recovery was to recruit more and more recovered patients who can donate plasma for the treatment of Covid.  He is also working on a national project currently which involves testing the efficiency of plasma in treating COVID-19 under the ICMR plasma therapy trials.
The story of Dr. Satyam Arora is all about never giving up and facing every challenge coming your way. His journey from a frontline warrior, treating virus infected people to himself being a victim of the virus is inspiring. It's an emotional and mental turmoil, getting infected by a deadly virus and being in complete isolation, away from family and friends. He not only fought with the virus but also was resolute to make a change and find ways to cure people. "I am more patient and empathetic towards Covid patients as I can relate to their anxiety" he said in an interview with the Times of India.  So whenever you feel like stepping out of your houses for leisure try to think about doctors like Satyam Arora who are engaged in this fight against the Corona virus for the safety of your family and friends. 
By Neha Mehrotra (Student), Third year,Department of Journalism and Mass Communication, Vishwakarma University, Pune.