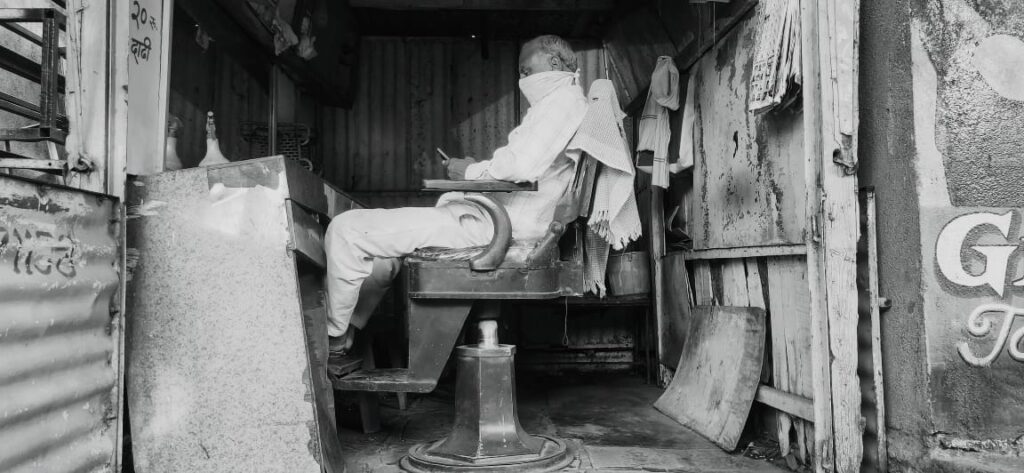 (VU CCD News Feature)
Pune, October 3, 2020- Barbers are among the worst-affected professionals during the COVID 19. Yet, the hair cutting salon owners and employees are combating the situation with grit and determination, a survey has indicated. Their business had come to a standstill in March, but it has gradually picked up by mid-September.
The survey was carried out recently by students of Journalism and Mass Communication of the Vishwarma University's Centre of Communication for Development.  It indicated that most barbers still find it tough to meet both ends meet.  Yet they have not lost hope.
Fifteen students from different parts of the country interacted with these professionals at their home towns when they did not have classes in Pune because of the Covid 19. The places of the survey included Pune, Pithampur (Madhya Pradesh), Vijaypur (Karnataka), Jamshedpur (Jharkhand), Yevatmaal, Pathare in Shrirampur of Ahmednagar district, Karad near Malkapur of Buldhana district, and Deur near Palghar district of Maharashtra.
The government has permitted the barbers to restart their hair cutting saloons and beauty parlors, but it has continued to be strict about the restrictions like social distancing. The survey's purpose was to record how the barbers are managing their business and attitude of the customers. Following are salient features of the survey: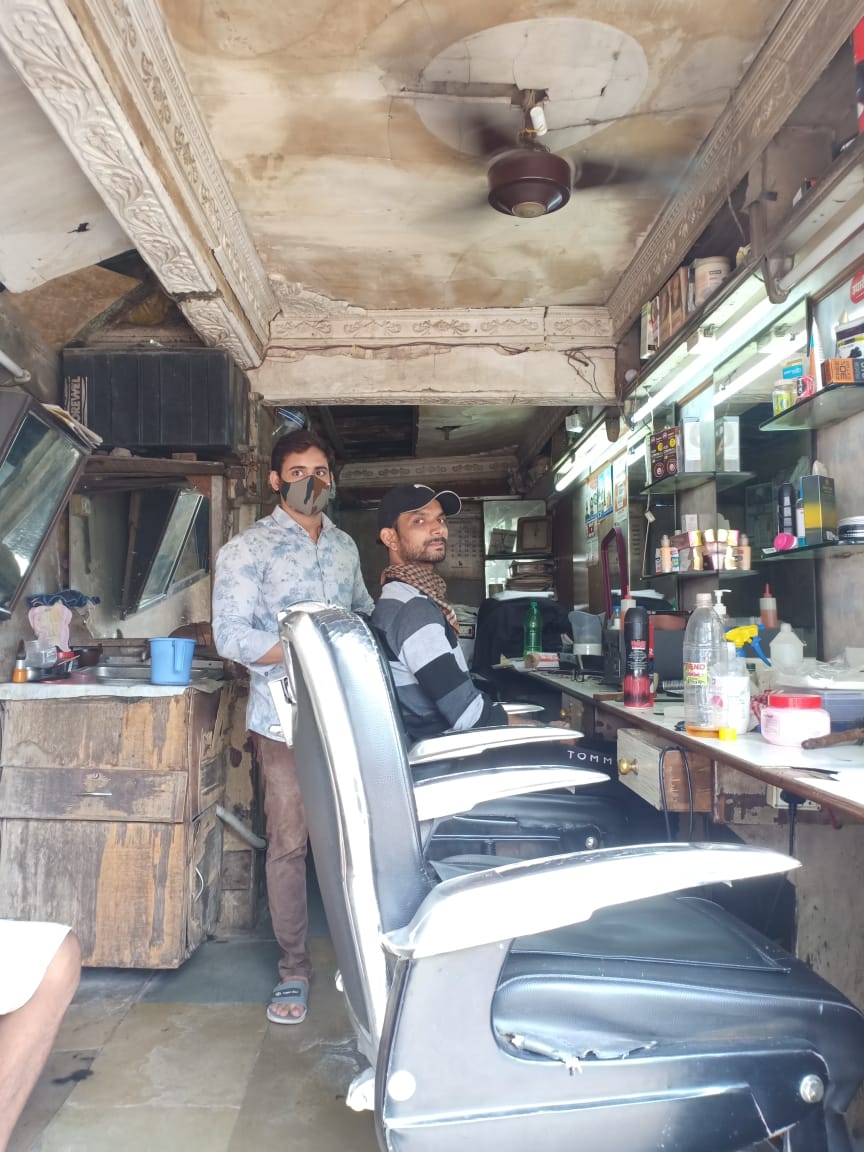 The business for the barbers was closed like the rest of shopkeepers in the country. 
Employees of some haircutting, shops rushed to their native places and tried to start earning there. Most could not do much.  The scores of them starved.
Government restrictions were being used.  The haircutting shops have not become operational as in the past.
Scores of them are starving even now.
The government's promises are not met. It has compelled the barbers to follow its guidelines about masks, safety kits, and other related matters. The barbers have followed these guidelines, but the customers have not started visiting the shops.
The barbers and their family members have to spend on these kits even though they can not afford to spend.
The barbers have begun searching for ways to resume business.
Shamrao Kashid of Bhandarkar Road, Pune, for example, started offering home service by investing for disposable personal protection equipment. Mostly his old customers have begun calling him for the haircut and other services, at the cost to be borne by the customers. Some customers are willing to bear higher cost, but the number is limited.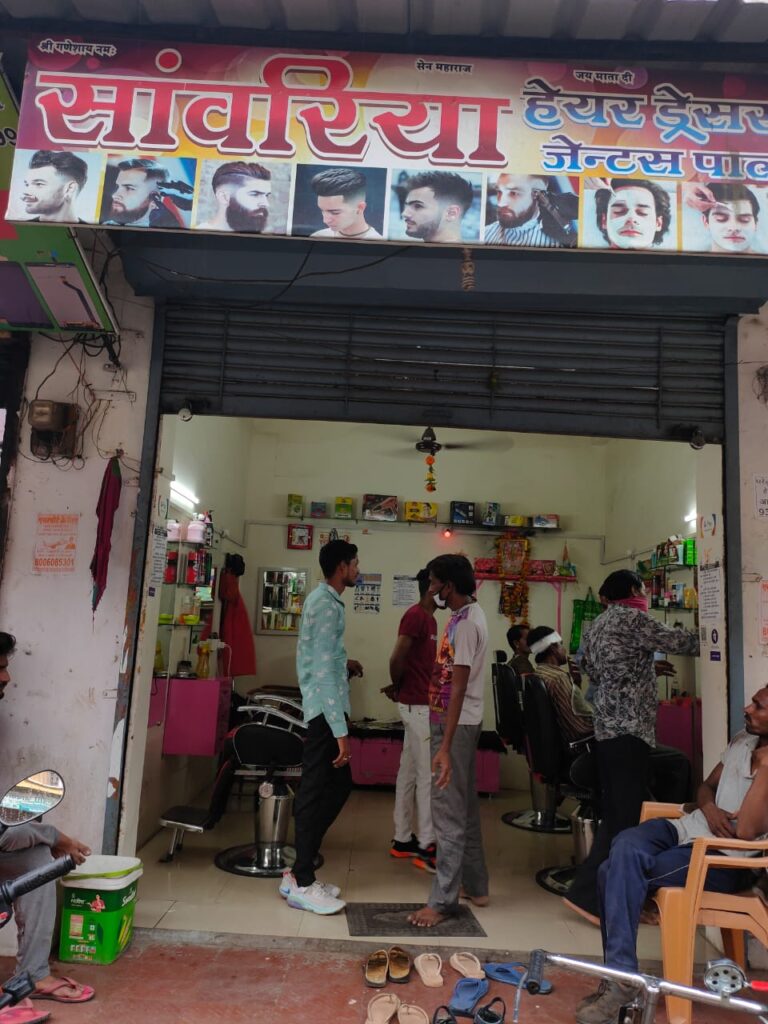 In nearby Gokhalenagar, owner Yogesh More had three employees from Uttar Pradesh, but they left for a home down and have not  returned yet. He does not offer home service for the risk for the customers and also his family members.
He has a grievance that many customers do not offer normal courtesy to him during such a home service. They expect him to work at odd places such as car park, terrace, or under the staircase. They are not willing to pay the higher charge for the safety kits. In any case, he can not leave his own shop because he must wait for his other usual customers.
In Pune's Bhavani Peth,  Shaikh basir had kept his shop closed. Earlier, he used to get 25-30 customers. Not any more. The business has resumed, but hardly half a dozen customers in a moth.
In the same locality, Abrar Shaikh kept his shop closed. In July, about 15 customers dropped in. But there was not a call for a home service. His grandfather started the shop about 40 years ago. He had employed three barbers, but two of them have left now.
Rajendra Uddhavrao Gaikwad of Yavatmal had to close his shop on the day of the Janata curfew. He had to invest a substantial amount for the shop to resume business. But there was no customer till first of July.  He spent also for the safety kit. 
As against such tragic tales, Rajendra has some instances of kind-hearted customer who came to his rescue. The owner of the house has not complained that he (Rajendra) could not return the money because of the difficult times until now.
The old customers offered him monetary help. He used to offer home service even before the lockdown. Among them were some ex-servicemen and handicapped customers. They came forward to offer more money.
Earlier during the recent weeks, other customers hesitated to visit his shop, but gradually they started coming when they realized that he took safety precautions. Some customers volunteer to pay additional amount for the safety kits. There are some kind-hearted customers who offered grocery and ration packets three or four times in a month before he appealed to them.
Jitendra Chavan of Pithampur, Dhar district of Madhya Pradesh, has his brother working in his shop. There is another employee who suffered the same fate. All of them had to face hardships, borrow money, or request neighbors to give them grocery, and ration with a promise to pay later.   Jitendra could not afford to buy a smartphone for his son required for online schooling. The children have not been able to join the classes.   
There is an unexpected experience for several barbers.  Wives or other relatives have started cutting the hair of their male members of the family when shops remained closed for months. Eighty percent of the customers of the barbers stopped patronizing the shops, which meant a substantial loss to the owners.   
Jyoti Patil of Peethampur has a  heart-rending story to narrate.  She spent Rs 40,000 to get training of a beautician, and another Rs 25000 for the equipment.  She believed she would earn more if she hires a centrally-located place for the parlour. Accordingly, she set up the parlour and began the business. However, unexpectedly the lockdown began and she had to close the parlour and leave the rented shop because she could not afford it.  Her husband is not able to support her, because he now gets a reduced salary. Now that the businesses in the town have begun, Jyoti plans to resume her parlour business during the Dasara-Diwali festival season at a rented place in the centrally located premises. She believes she would get good business, bus is worried if she does not.
Mr Nand Kishore Verma, two-time minister of the Madhya Pradesh government and chairman of the Kesh Shilpi Mandal is aware of the difficulties faced by the barbers in the state. He tries to help the barbers as much as he can as a member of a political party, and also an activist of the Sen Samaj Sanstha. Yet he tries to advise members of the community not to depend only on hair cutting business, but try doing some other business like selling vegetables, fruits, tailoring and the like. He tells them that the situation does not obtain only in Madhya Pradesh, but also in other states like Uttar Pradesh and Bihar. Mr Varma counsels the people that about a hundred persons committed suicide because of the heavy debts that could not be repaid. Such a situation can be avoided in any state if other sources of living can be tried.
Contributed by : Srishti Jahagirdar, Umang Bafna, Barkha Pawar, Sakshi Kadam,Vatsal Kariya, Mohini Sharma,Raj Kalekar, Prattay Basu, Fatima Inamdar, Sheetal Akhade,Pratiksha Jadhav
conceived by : Dr. Kiran Thakur
Subedited by : Prof. Abhishekh Bhosale, Prof. Ankit Singh
(This news feature is meant to be published in any media without seeking permission from the Vishwakarma University's Centre of Communication for Development. We will be happy if you give credit to the students/teachers of the University- Director, VUCCD)