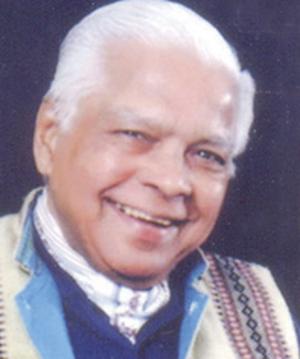 I was saddened by the black and white images of Lal Bahadur Shastri's last living picture after his death on January 11, 1966. Millions of Indian newspaper readers saw the pictures later. Like these readers, I too did not know the name of the photographer then. Years later, I came to know the name of Prem Vaidya(February 26, 1927 – July 10, 2014) from his son Abhay who was a student of the Department of Communication and Journalism in Pune. I was his teacher in the department and became his colleague as a newspaper journalist. Later, I frequented his house in Navi Peth to see his parents, Pramila and Prem while Abhay worked for newspapers like The Times of India, DNA, and recently, Hindustan Times.
Like Abhay, his father was also a man of few words. He had settled in Pune after retirement from the central government's Films Division where he had worked as a documentary filmmaker and captured so many great events in post-independence Indian history. Their cosy little apartment was a storehouse of a rich treasure of documentaries, photographs, clippings, and books. Abhay and his mother obviously knew the value of the treasure. After the death of the parents, Abhay, his journalist wife Geeta Nair, and sisters Meghana Sane and Anuradhaa Shastri, along with their husbands Vivek and Veer Bhaskar, set up the Pramila & Prem Vaidya Archive.
The family has occasionally organised some activities to let the people have a peek into the treasure. Abhay, now Associate Director at the policy research think tank, Pune International Centre, and has brought out something that is path-breaking.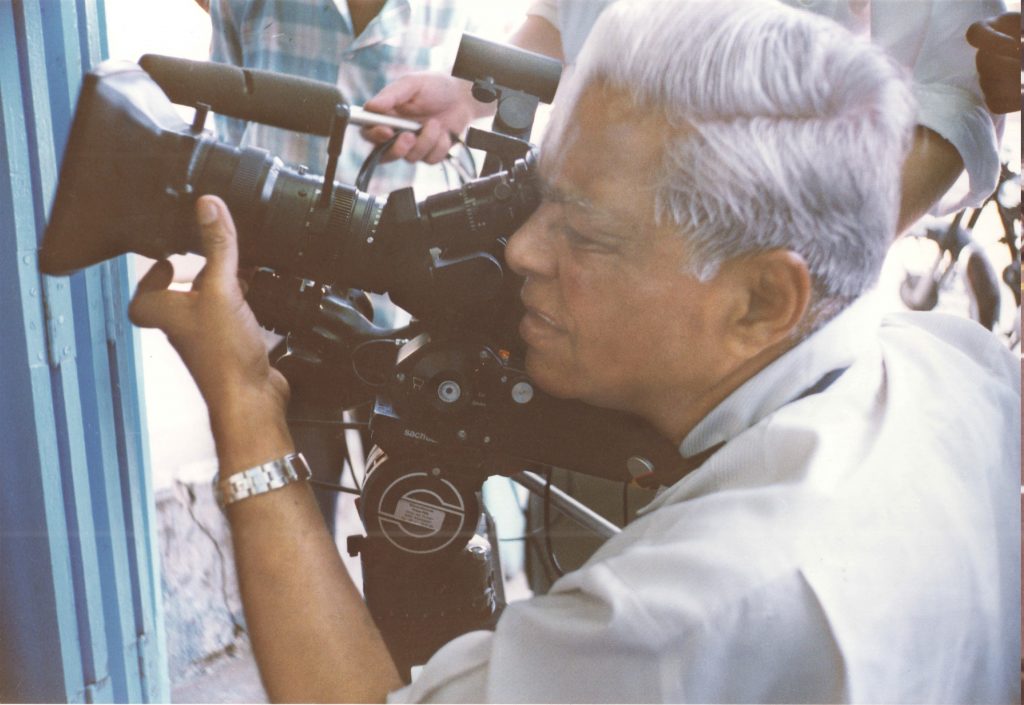 This 10th January, we were delighted to see that historic photograph of Lal Bahadur Shastri, in an innovative format conceptualized by Abhay: It is precious memorabilia, a commemorative calendar for the year 2021, with 20 black and white photographs of great personalities and historic events of the 19th century. His concept centers around the theme 'I for India: Strong, Resilient and Compassionate.'
And what a selection of the events documented by Prem Vaidya!
This collection includes the birth of a new nation called Bangladesh in 1971 and Bangabandhu Sheikh Mujibur Rehman's speech in Dacca (now Dakha) after the surrender of Pakistan. Prem Vaidya had filmed the historic 1971 war for the Government of India, just as he had covered the 1965 war in the western sector.
The collection of rare, historic photographs in the commemorative calendar, includes Bharat Ratnas and Prime Ministers, Pandit Jawaharlal Nehru, Indira Gandhi, Lal bahadur Shastri, and great newsmakers of Prem's time, JRD Tata, Veer Savarkar, PuLaDeshpande, Sir Edmund Hillary, Yuri Gagarin, Acharya Vinoba Bhave, Sir M Vishveswaraya and Jaya Prakash Narayan.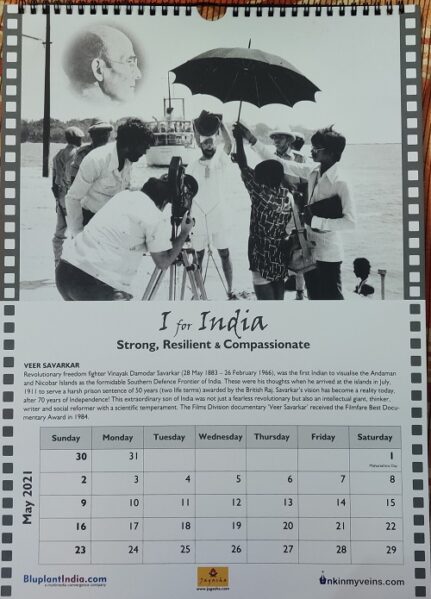 Prem was a member of Prime Minister Shastri's delegation to Tashkent for the India-Pakistan Peace Talks and the historic photograph was taken on the night of January 10, 1966 when Shastriji was taking his after dinner paces inside his dacha (villa).
A photojournalist or a documentary filmmaker generally tries to avoid getting photographed. Prem Vaidya, who was in this profession for over 31 years, must have had scores of occasions to get into the camera frames. But at times he was also a part of history.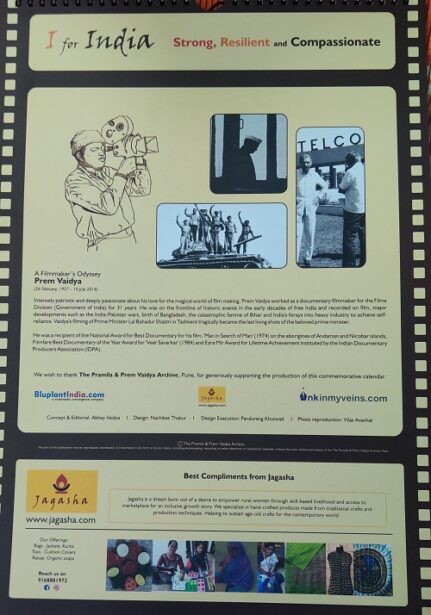 Among them was this one, that Prem happily allowed himself to be clicked. Abhay was justified to include it in this commemorative calendar. In this photograph, Prem is seen wearing a belt of live machine-gun cartridges from a captured Pakistani tank. The victorious Indian soldiers garlanded him thus because, as they said, "they had nothing else to offer at that point of time!" That was the epic tank battle of Phillora in the Sialkot sector. It was the second biggest tank battle since World War II. More than 60 Pakistani tanks were destroyed by the Indian forces. Here he was to record that stunning victory of the Indian armed forces.
My compliments to Abhay's team who contributed to the novel memorabilia. Designer Prof Dr Nachiket Thakur and Pandurang Khutwad (Design Execution) and Vilas Avachat (Photo reproduction). 
The calendar also features Jagasha (www.jagasha.com ), a startup enterprise that seeks to empower rural women through the sale of their hand-crafted products; www.BluplantIndia.com , a multimedia convergence startup and www.Inkinmyveins.com   , a content development startup.
The calendar is available in two formats: An A3 size collector's edition on textured matt paper, priced at Rs 300/- and a foldable art paper edition priced at Rs. 160/-. Printed by Krishna Printers, Aundh Road, Pune it is available for sale at the stationery superstore, Venus Traders on FC Road and at Express Book Service, Pune's oldest bookshop on East Street, Camp.
Abhay and his family members are keen to make this inspiring calendar available to the young people of India and are taking efforts to reach out to students in higher secondary classes and junior colleges. They feel that this calendar with inspiring images from Indian history should be there in their classrooms and the library as they learn history from the textbooks.
The commemorative calendar will be a unique gift to friends and relatives interested in memorabilia that can adorn walls at homes, classrooms, and offices. It is available at the retail outlets mentioned above, or you may write directly to Abhay at abhayvaidya.ht@gmail.com
Dr. Kiran Thakur
Professor Emeritus
Director, Vishwakarma University Centre of Communication for Development
drkiranthakur@gmail.com